Home > Industry Information > Spiral Screw+ Jade Rollers Lift up and Down, and Wit Back Electric Lift Adjustable Thermal Massage Bed with Lifter
Spiral Screw+ Jade Rollers Lift up and Down, and Wit Back Electric Lift Adjustable Thermal Massage Bed with Lifter
2021-07-11
Model NO.:

BL-7908

Power Type:

Electric

Material:

Alloy Frame Jade Roller

Operation Mode:

Jade Heating Thermal Therapy Massage

Color:

Cream

Warranty:

One Year

MOQ:

10PCS

Certification:

Ce,RoHS

Name:

Massage Bed Bl-7908

Transport Package:

Caton

Origin:

China
Type:

Roller Massager

Feature:

Far Infrared Ray&Negative Ion

Substance of Working:

Jade Heating Thermal Therapy Massage

Description:

Far Infrared Ray&Negative Ion

Function:

Folding

Voltage:

110V-240V

Supply:

1000/Months

Payment:

T/T,L/C,Westem Union

Trademark:

Bonlife

Specification:

(L)2000mm x (W)710mm x (H)420mm / folding status: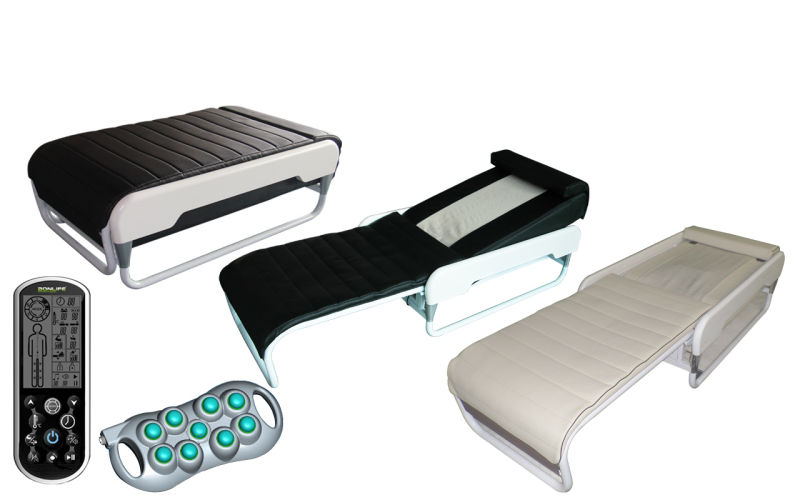 Adjustable Thermal Massage Bed with Lifter
1) Intelligent spine scanning and APMS (advanced projector movement system)
The massage bed senses your spine's length and curve to provide a massage tailored just for you.
2) Intelligent Control
Choose from 6 levels of massage intensity using the full-featured remote control. It has vibration and heating function on leg part. The back part can be realized up and down automatically. Music and massage buttons are on one remote controller. The CPU of mother board will control the temperature automatically.
3) Advanced Massage Program
Choose from 6 massage programmes - 5 fully automatic and 1 semi-automatic, for a more focused massage.
4) Sound Therapy
Carefully selected sounds to relax and soothe your mind and body. 
An SD card slot means you can add your favourite sounds and you can listen with headphones via the 3.5mm connector too.
5) Smart design
Stunning looks, sensuous quality, full remote control, adjustable head-rest... all in a smart, space-saving design.
6) Back electric lift function. 
Around April 2017, our gemstone supplier gave us a rose quartz roller(a handheld massaging tool), and he told us that this beauty product is called jade roller and it a has a huge market. He suggested that we develop such products. Since then, we have developed this new product line of jade roller. Now we have self-owned factory, we can offer high quality jade roller for global customer with wholesale price.
Benefits of jade roller:
Aids in supporting the lymphatic system & h

elp lymph node detoxification

Supports lymphatic drainage to reduce the appearance of puffiness and wrinkles
Advantage of our product:
High quality & w

holesale price $3.5

Factory direct sale

Small MOQ as 16 pieces

Support custom packaging
Jade Roller
,
Jade Roller Wholesale
,
Jade Roller Bulk
,
Jade Face Roller Wholesale
,
Jade Facial Roller Wholesale
DDS Trade Co., Ltd. http://www.ordrms.com